Monday, July 11, 2005
Soo...I'm recovered from my little pity party I had going there.
I'm doing much better. Really.
Someone had asked when our CD will be done: It should be finished by September, it may be put online before we actually have hard copies in our hands. I'm working on our new website (
sneak preview!
, caution, some broken links, use the back button to get back to home) and soon I should be FTP savy enough to get sound files up.
Call me crazy, call this gross, but I can't resist. (gritsandmolassas, the EMT, should appreciate this). A few years ago - 7, to be precise - I was working with some power tools at my grandfather's house, unsupervised. I reached up to turn off the jointer (switch was an electric outlet strip screwed to the ceiling) and my thumb and it had a fight. It won. I just stumbled across pictures a few days ago. Please, don't look if you are easily grossed out. This kind of thing would just fascinate me (so if you have pictures of the same sort, send me a link!) and I thought maybe a few of you might share my fascination. Anyhow, I kept seeing a smiley face in all of this and couldn't resist opening up Corel Draw and playing a bit.
_
_
_
_
_
_
_
_
_
_
_
_
Can't say I didn't warn you!
_
_
_
_
_
_
_
_
_
_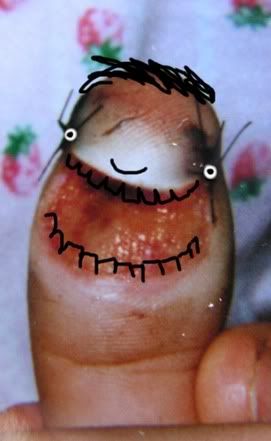 And that's after they cleaned it up a bit. I remember waiting hours in the emergency room, getting awfully hungry and wishing I could go home and eat ravioli. I even remember the red dress I was wearing!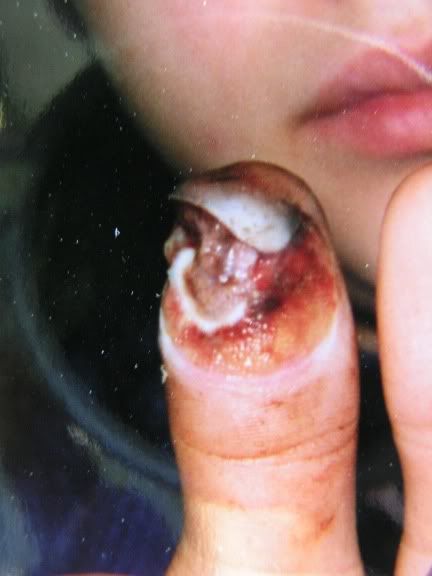 I think that's the same day. White material on the left is a bit of skin, they had to rip the whole thing up (painful!) to get it nice and neat for the two stitches. If only you could see my face in that picture you'd see what a nice day I was having.
I still remember the smell of the hospital, and the time the bandage fell off at five in the morning and I had to wake up my mom to fix it. I had about 21 stitches in my arm where the skin was taken from (for the skin graft) and another 7 in my thumb to hold it on.
It took only one surgery to get it to look like this: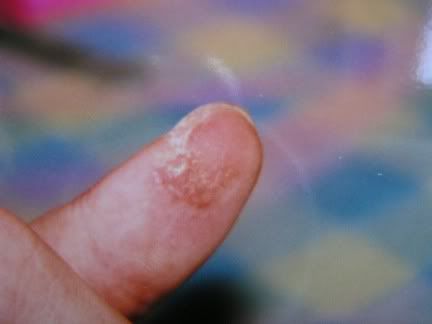 And now it looks like a skinny thumb with a scar on it. Healed quite nicely.