Thursday, December 01, 2005
First off, THANK YOU SO MUCH
MRS. LYMAN!
If it were not for Mrs. Lyman, I doubt very much that I would be a blogger today. When I first saw her
website
, I had never heard of a blog. She has very graciously nominated my blog for "best teen blog" in the
Spunky homeschool awards.
I would also like to take this time to ask you to consider voting for me as your president...uh, wait. I think I'm getting carried away! If you would vote for me in this upcoming contest though, in the case that I am one of the participants, I would be greatly honored :)
I'm also starting to think that maybe I should start watching my spelling/punctuation! My dad was just pointing out all of my mistakes. I know I sometimes miss when I type fast. Whoops, that should be, I miss WORDS when I type fast :D
And here are two pictures for your viewing:
Our new bass is on the right (I am so excited, but I'm worried about getting blisters so I am limiting the amount of time I'm practicing). If you will, notice how skinny it is! Maybe I should lose some weight to match it :) The sound is very full for such a small bass, it is made by Silver Creek in Romania.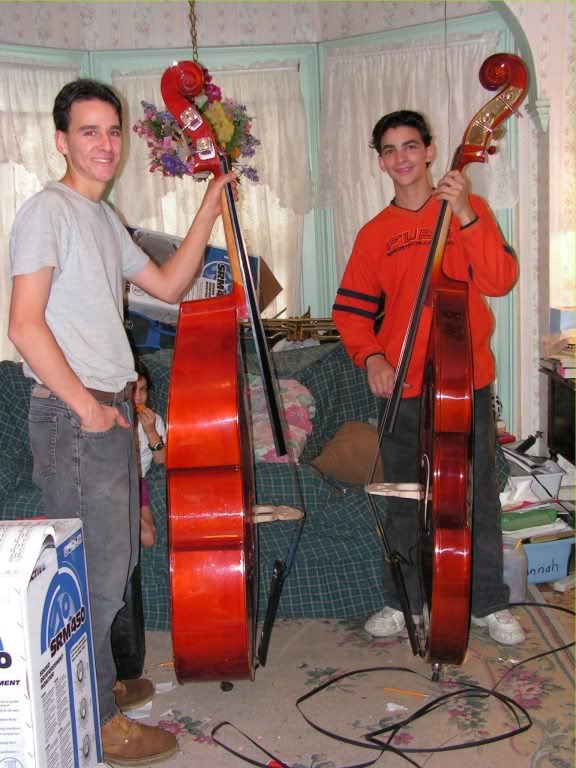 And this might not interest as many of you, it's a hair style I came up with the other day. It's just a variation of an upside down braid, and no doubt it's been thought of before.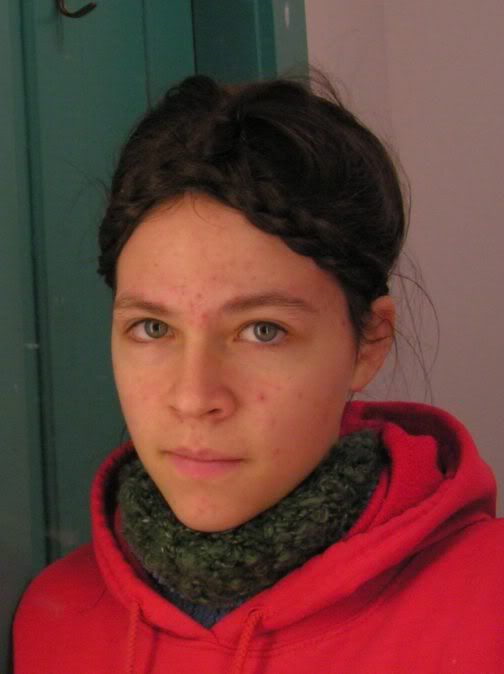 And please excuse that weird expression on my face! I was, afterall, looking at my self, which is strange if you think about it. At least when I think about it, it is.
And for those of you who have medium to long hair and want to try this very odd/sort of 60s looking hairstyle: flip your hair over so your head is upside down and do a french braid starting at the nape of your neck. Continue braiding until you reach your forehead. Braid about 3 inches past your forehead and then split into two portions; braid those to the ends and then put them behind your ears (and pin that way, I used bobby pins).
Voila!