Wednesday, March 22, 2006
Yesterday my brother was plugging in his headphones into the computer to listen to something and the whole thing shut down and started beeping. It wouldn't start, so we unplugged it. The beeping continued :( We thought it was shot, but a few hours afterwards we plugged it back in and it started. After playing around with the router/modem settings we got the internet connection. Our wireless, however, is still out. Thank God the computer hadn't crashed. After we found that it wouldn't start, we assumed it had crashed and I went immediately to find some DVDs to back up all of the stuff on my laptop onto. Nero gave me a terrible time, and it is now telling me all of the burns are failing - though when I pop the DVD back in, I can open files that I've burned onto it.
Two of my younger siblings came down with the flu two nights ago; the rest of us all have colds except Papa and Peter. It's pretty stinky. It's a sore throat that extends down into your chest (feels like you've been breathing really cold air) and congestion. I sounded extremely funny earlier today :p
Speaking of cold air, I set out to run 5 miles earlier this week and I made it! I averaged only 5.8 mph, and it was relatively flat, but I was happy with it. That's the farthest I've ever run in my life. The temp was 19, and by the time I reached the halfway point I had to take off my scarf. On the way back the wind was blowing and I had to put it back on to avoid freezing. Now that I'm sick, I'm going to take a few days off and not run at all.
I've been looking through the folders of pictures that are on this computer (since the wireless doesn't work with my laptop anymore) and found some pictures I took last summer of a storm.
The front moving in, looking south: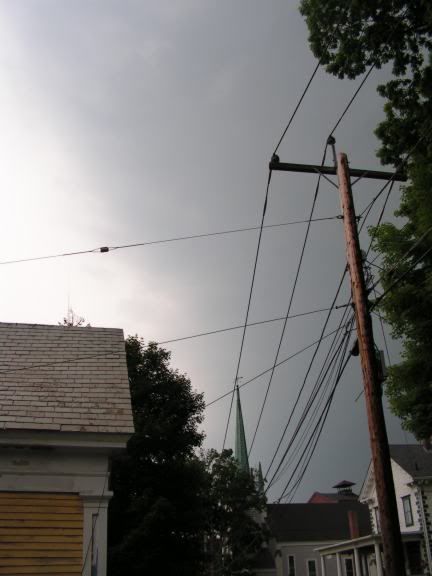 Looking west: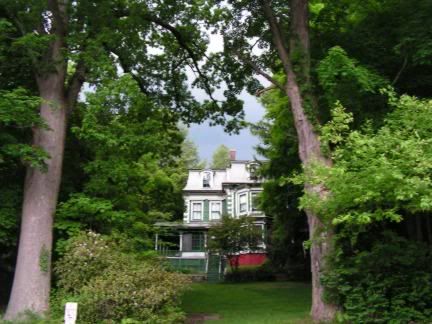 Looking at the same view, a few minutes later: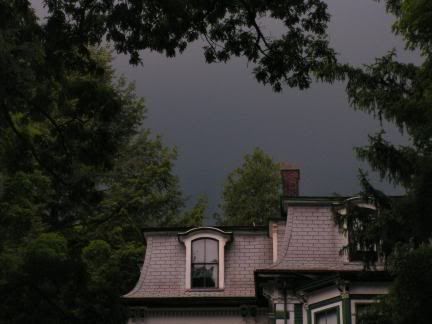 Looking east, after the front was over us: