Wednesday, April 26, 2006
I'd like to point out
this blog.
It's a good blog run by a friend of mine and at the moment there are some fun pictures up.
Also
Carol's Caper's
and
Tira's Story
have good info/pictures on the trip I and my family took to Philadelphia.
Next, I've discovered I'm not a runner :( I'm a jogger. BLEAH. I don't run fast enough yet, I'm just about at a 10 minute mile pace for longer than 1 mile distances. BUT, to avoid injury, I'm going to keep up this sluggish pace and not worry about it until I get past the 6 month mark.
Ah...the family has all awakened, to devotions will I go...to devotions I will go (what tune should that be set to? Hi Ho The Derry Oh?)
Since no one has left any comments (as of 11:43 EST) I will take the liberty to edit this post and add a picture I took this morning :D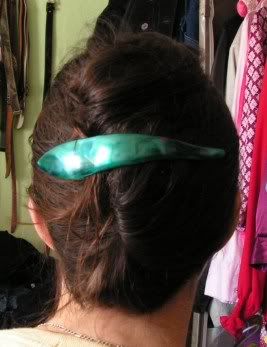 It is the FIRST french twist I have ever been able to do and keep it up on my head. Attention longhairs (or semi long hairs) I got the clip from a group order from Europe through a hair site I visit. It is THE best clip I have ever used in my hair ever.