Monday, July 10, 2006
I've got a great hoard of pictures from our weekend! And a great weekend it was. Wow, I had no idea we had friend people up in the north :D Talk about nice people.
We played at the County Gospel Festival in Fort Fairfield, ME. Way up north, about 452 miles north of our house.
This next paragraph may be extremely jumbled and hard to follow. If you can read it, then look at the pictures :D
We left Thursday night, arrived Friday, ate supper at a GREAT buffet called Mike and Maude's (picture in the list below), listened to a concert of locals at the gazebo, drove to the pole barn where the festival was being held the next day, went to sleep, got up at 6, went barefooting along the field, set up for the festival, played the festival (we were last, it started at 10am and we played at 5pm!), saw our good friends the LaClaires, met new a ton of new people, played, had a good time, ate at Mike and Maude's again with some of the other bands, drove to the church we had a concert at the next day. (ok, pause for breath). We met Rod at the church (I've been told to refer to him as Smitty?), set up the sound system till 11pm, sleep, up, played some in the morning, then ate (and met more people over lunch and in the afternoon), my dad and the pastor did some trouble shooting on our mixer which had acted up, ate pizza someone brought us (THANKS!), set up outside on a flatbed, played a concert, talked afterwards, ate ice cream and cookies, then talked some more, talked with people from Canada, packed up (people helped!), drove with some friends and people from church to a local dumpstation, and then went home :)
If you read to the end of the post, you'll find out why I was wanted by the police in Caribou :( In all seriousness. (read on) (er, look on).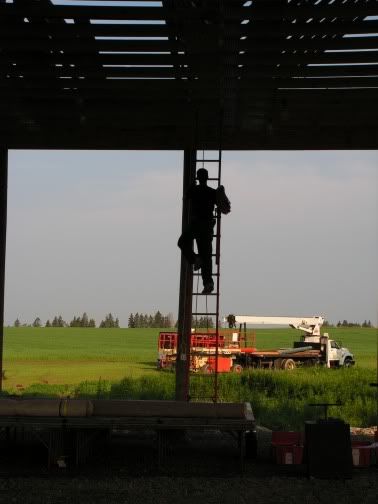 Vincent setting up some cables for us up in the rafters of the pole barn we played at..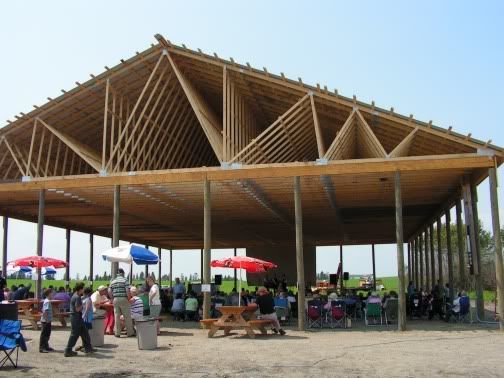 The pole barn.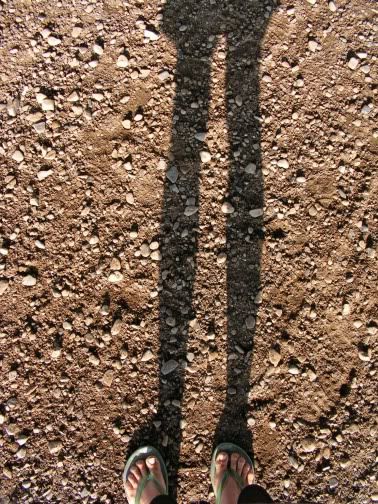 Kind of a silly picture of my shadow after the run that morning.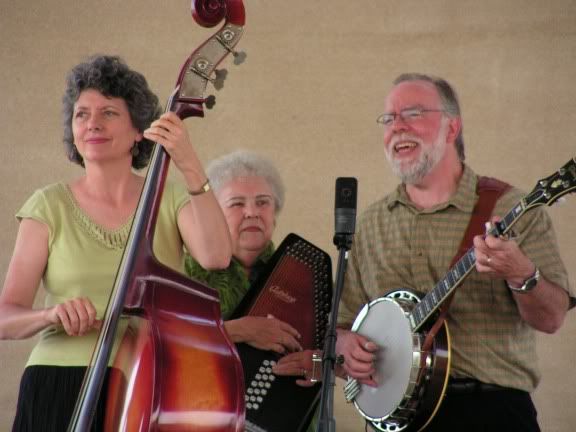 The LaClaires! Poor Mrs. LaClaire didn't feel well at all, I'm so glad she was able to get up and play.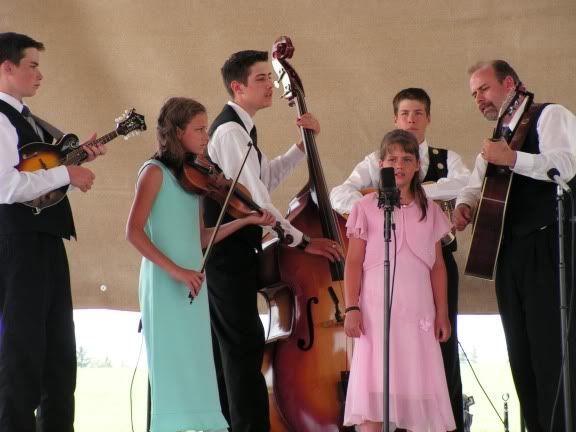 The Dennys! We met this family and had a great time listening to them play, jamming with them before we played, playing with them on stage, and chitchatting at the restaurant afterwards :)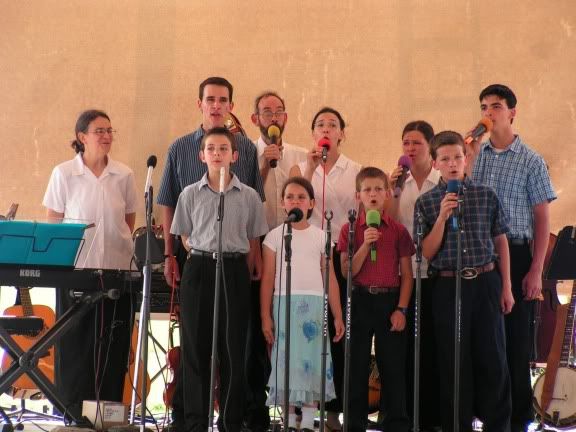 Us on stage.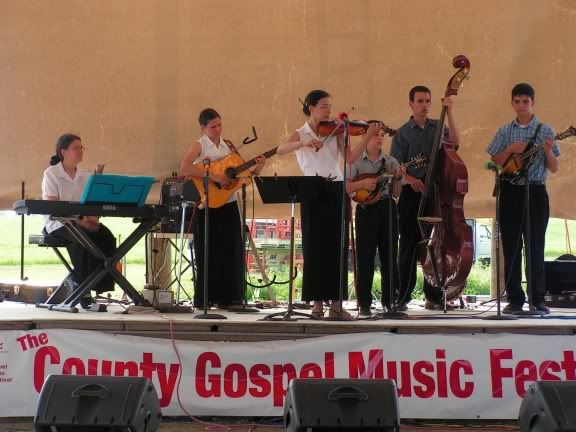 Playing When I Survey. It's amazing how when you play a quiet slow song, the entire audience becomes silent. It's really cool.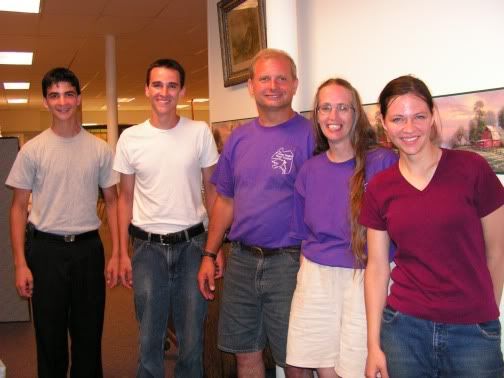 Some of us with the people who asked us to play at the festival. They were such nice people! (everyone was nice!)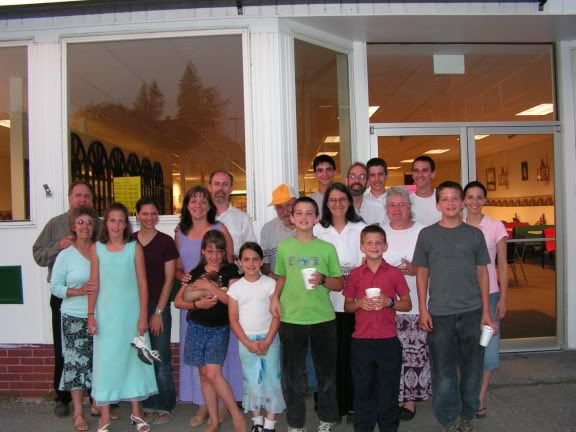 They took a picture of us with the Dennys and a few other people who played at the festival in front of the restaurant.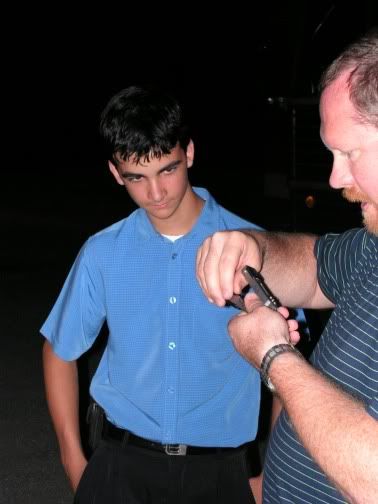 Peter learning about knives - that guy on the right and my brothers were having contests to see who could pull out their gerber/leathermans faster :D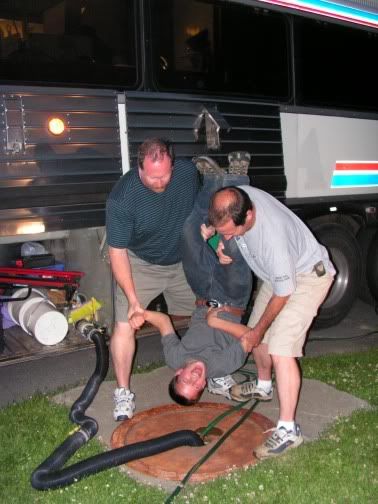 Nathan almost got dunked at the dumping station! I don't know if he'd fit down that little hole though :p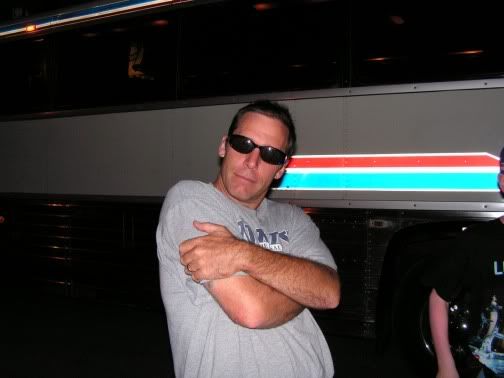 And Mr. Cool (Smitty, Rod, Mr. I'm-not-sure-what-his-last-name-is). My sister and I sat with his wife and him (is that good english?) at lunch on Sunday and had a great time :D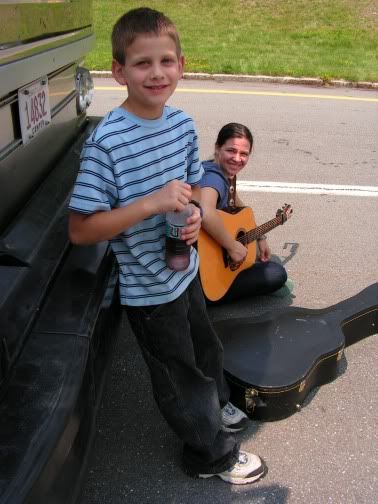 On the way up, at a rest stop. Met some people from New Brunswick there who were very happy to get a copy of our CD.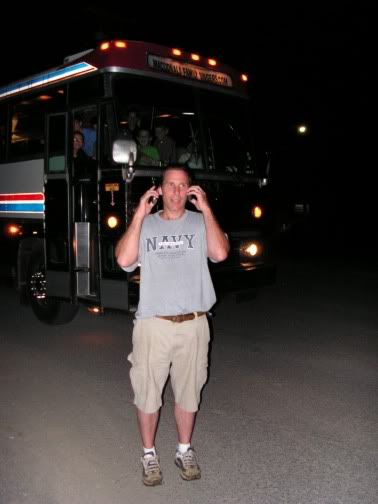 I almost forgot this one, we got separated from someone who's children were riding with us and they called us asking for directions, and this guy was already on the phone with someone but we needed him to give directions..I was standing in the front of the bus and everyone said to go and get a picture!
Oh yes, the police incident :(
When we pulled out of the church parking lot, I opened up the hatch and sat with my legs in the hatch, but my body outside of the hatch. Well my younger brother saw I was up there and decided to come up. We drove down to the gas station and while on the road we passed the firestation (and maybe the police station too?). Well we waved to those guys without another thought. Friends that were meeting us at the dumpstation got lost and had to make a u-turn. They got stopped for it, and somehow it was communicated that they were looking for a bus because their kids were on it. Well the police said "Oh yeah, well we're looking for one too! Someone called it that there are kids on top of it." Somehow the police either gave up chase, or just couldn't find us, because they never stopped us. However the guy that was stopped for the U-turn said the police had meant business, and I was terribly ashamed to have been the one to blame for being wanted. I hate being at odds with the police, and it makes me cringe to think of the lecture I would have been given had they stopped us. It was definitely enough to make me rethink my sitting-on-top-of-bus habits, even though I feel what I was doing is relatively safe. I'd rather make the police happy and not stop us than sit out of the hatch while driving through town.
Vincent looked at me and laughed and said "You're a wanted girl!" Ugh. If it only wasn't the police that wanted me!