Thursday, July 06, 2006
We're headed up to Maine this weekend to do our first festival. I'm not sure if it's a gospel festival or a gospel bluegrass festival. In any case, it should be fun :D
My laptop is still in transit (coming from the repair place in Chicago), I hope for it to arrive this afternoon. I'll try to make sure that we get plenty of pictures on this trip. Next week I expect my blogging to diminish greatly. We'll be on the road for four weeks. Someone had asked in a comment where we're going. You can check the
schedule
, but to sum it up we're going to NY, OH, MN, IA, KY, VA, NJ, and probably some other states I'm missing. Basically a mid-west/mid-south trip.
If my laptop comes this afternoon I will be sending out a " please confirm subscription" email for the MacDonald Family Singers Newsletter sometime next week, and then a newsletter. I added some people from my address book that hadn't requested a subscription, and now everytime I think about sending out the newsletter I think about those poor people who are going to be innundated with emails from us on the road, and I feel terribly guilty. I guess I'm going to do "If I don't hear from you, you will be unsubscribed" type of thing and clean up the list. From there on I will feel much more comfortable that I'm sending the newsletter to people who really want to get it.
Other than that, I have little news to report. I ran 3 miles barefoot yesterday and got away with just a tiny blister on my left middle toe. My calves are finally starting to get used to this different way of running.
EDIT: My laptop came :) YAHOOOOOOOOOOOOOOOOODAAAAAAAHOOOOOOOOOO.
So here are two pictures from NH a few weekends ago.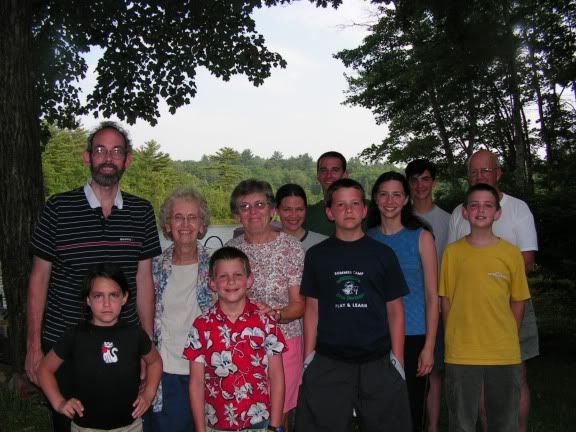 Give us a camera and a mirror...