Sunday, July 30, 2006
Whew, it seems like I have a lot to update on. First off, we were able to spend some time with our friends in Ackely, Iowa, and at the concert they set up for us we got to meet a bunch of homeschooling families and they invited us to ice cream afterwards :)
Here's the cool stage we had.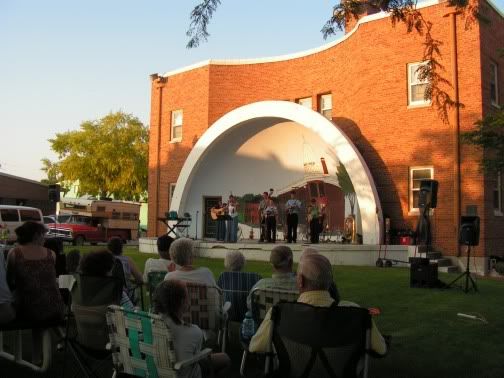 It was so fun to hang out with the Carsons and the new friends we met. When one family heard we were planning on staying at a Walmart in a town about 45 minutes away, they said they lived right in that town and invited us to park in front of their house and have breakfast with them in the morning which was very nice :) Good coffee, and thank you Mr. Bell for all of the books you gave us, one of which I read today while we were driving between churches. :D I think that family has the largest coffee mug I have ever seen, which is about a foot tall, white, and reads in large black letters, "Caffeinated"
Here we are with the family we stayed with.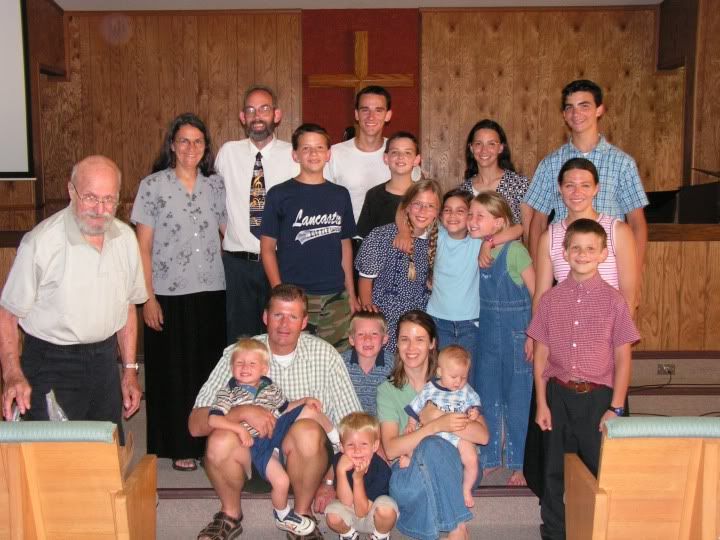 Update on the running front. I brought Nathan along, the last one took place on partly gravel roads so I had to wear shoes till I hit the blacktop (one mile of gravel) and then I ran about a half mile out on the pavement barefoot and turned around and reshoed where we got back to gravel, making a nice little three mile run. I got my first blood blister from stomping on a rock. It seems that it does little to stomp on a rock on your heel (blood blister) but it really messes up the works to step on one in the front of your foot (bruise). That's just my $.25, maybe I'll learn differently as time goes on.
It seems that our schedule goes right out of the window when we're on the road, as far as sleeping goes. We stay up late and get up late, unless we have an early(er) morning concert. I guess that could be considered a schedule :D It's CST time here where we are in Iowa, so when we get home and stay up till midnight, it'll be 1am. yikes.
What I'm realizing is that people actually do read my blog from being referred by our family website. And they know all about me before I get up and sing. It's quite funny, because people will mention "oh, so you do such and such," and I'll say "yeah, how'd you know?" and it turns out they've checked out the blog beforehand. Which then gets me thinking, uh oh, what else did I post about!? When we met
Pastor Mitchell (the guy in the black shirt)
down in Florida, one of the first things he said to me was that he read my blog, and then "You've got issues!" Which of course, was a joke, and it WAS funny :p
So if you're coming to one of our concerts and you're reading this, mention it to me that you read it :D
I've been going through kind of a time where I've been doing a lot of thinking on the decisions I'm making (whoa, big news! Call the papers :p ) and I read an interesting book by John Piper (that Mr. Bell gave us). Now I don't really have a clue who John Piper is, other than he's written a lot of books, but this one was interesting and I thought it to be an encouragement. I think it's called Don't Waste Your Life. Basically about the futileness of living to fulfull your own selfish desires. Even living to help others isn't really what it's all about, it's about bringing glory to God. I started getting a feeling partway through the book that if I wasn't a fulltime missionary or something like that, then how could I really spend my life on God, but Mr. Piper had some insights into how you can honor God through the secular work you do, even. And I'm so grateful that God has made it so that my job is being a musician on the road right now. I know that life doesn't always make sense, and a lot of things you have to do you don't want to do, but I'm just very happy to be in a loving family and have such a nice thing to do. I love playing music and that's one thing I know God wants me to be doing.
Speaking of music, I was thinking more on how music works. A lot of people say "how do you all play all of those instruments?" and my usual answer is just that we do, and it's pretty simple once you get one down, and then you can also fake it on some. But I was just thinking about how incredible it is that God designed the whole thing. The scales, the chords, the harmony, even the fibers of the vocal chords that sing well, God made that. And that's just incredible. There is absolutely no credit due to me. God has not just created the principles by which I play a guitar, but he gave me my very life and only by his grace do I take the breaths with which I sing. It's mind boggling, but I've started to feel that that's what I want people at our concerts to think about a little. I hardly EVER speak at our concerts because I always say the wrong thing, or flub up, and, but I think if there's an awkward pause I'll see if I can't get up the courage to say something about that. It's very important, and I never really thought of it as accutely as I did this afternoon.
A few days ago I felt a tickle in my throat, I'm afraid it's getting worse. I've got a mild cold, but the worst part is that it's really bothering my throat. In the morning it's the worst, gets a little better as the day goes on, then at night it starts getting bad again. Last night my voice was cracking pretty bad where it was not supposed to (I sounded like a 14 year old guy) and IMHO the yodeling is starting to sound whacked with this scratchy/cracky voice. Please pray for that, I don't mind sounding silly, but I definitely don't want to pass it on to someone else, and it's harder having it on the road than it would be at home with all of these concerts.
Now, if you want more info, more pictures, etc,
you can go here and check out the stuff my sister has posted
. I've become a lazy blogger, I'm afraid, and I don't put a whole lot of thought into my posts. I do, but I don't. I just say whatever pops into my head (dangerous thing to do, btw, if you aren't careful), with just a little bit of editing.
So maybe I've managed to make this long enough that it'll take as long to read it as it does for me to reach another wifi hotspot :D
ETA: I just checked the weather, the real feel right now is 92 and will real 104 later today. It's really humid up this way, and when you step out of the AC it feels like a sauna. I don't recall ever getting heat like this back at home, so I'm assuming Iowa is just hotter than Massachusetts.