Monday, August 14, 2006
Home! Such a sweet word. It would take a loong long time to blog about everything we did, and I don't intend to blog about everything, but maybe I'll just touch on a few more things I haven't mentioned already.
I wish I were a poet, and that I could eloquently say what I've felt at various points on this trip. I might have to sit down sometime when it's quiet and try. It's almost pointless, because I couldn't do it any justice. How in the world could you put the high points - or low points - in you life into words? How can you trivialize it into the common speech of man? How can you say more than words? Really, in all of the truly joyful moments God is glorified. Every fiber of my body was created by him, and not only my body but my soul. Every part of me that feels like bursting sometimes because I can't even imagine the love of God and it just makes me feel like singing, but even that seems likee trivializing it. I'm almost afraid to say it, lest I find myself doubting, but joy is not dependant on circumstances. When things go wrong and you find the strength to thank God, that's when you feel his power the most. It's not like the happiness that people find at the comedy club that makes you laugh and then you go home the same way you went, or that feeling when you get something new, it's so much deeper.
I had a thought while I was on the road that part of which I shared with one of our audiences. Sometimes it's hard to be smiling while you're up on stage. Maybe the day didn't go so well, or you had an argument, or you made a mistake. But no matter the cause, it's important for the audiences' sake that you smile appropriately - I'm not talking about a silly grin the whole time. Now opposed to that, there are the days when the day has just gone incredibly, and to add to that you have friends in the audience who are smiling at you and making faces and whatnot. The smile, although it might look the same on the outside, comes from inside. Not only does it cover my face, but sometimes I can barely sing because it's nearly making me laugh. How I want the joy of the Lord to be like that in me! Not just a facade on the outside that I must maintain for the sake of others around me, but a true change that not only makes me look the part, but changes the very way I live. This ought to be worth every cost. We ought to strive for this closeness with God, because there's just no substitute for it. And in the end, even, I haven't come close to putting what it is into words.
Here are some pictures from the trip (text follows picture):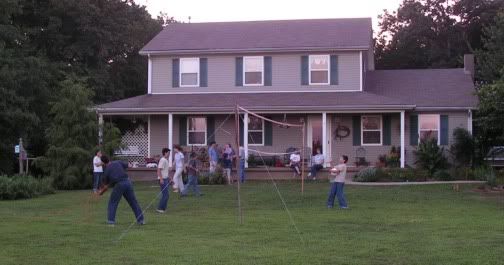 This really deserved some more blogtime. This is volleyball at the Myers' house. We got the net up in 2:57 min:sec because Jonathan said we could get it up in three minutes. I set my watch timer and said you're on! I think that's the fastest I've ever seen one go up. Anyhow, the volleyball was a lot of fun and I managed not to pop it up way in the air and have it land behind me. Well, maybe once :p Thank you Naylors, who told me I needed to think "I'm going to get this one!" instead of thinking "OH NO!!!!!! IT'S COMING FOR ME! WHAT DO I DO?!
"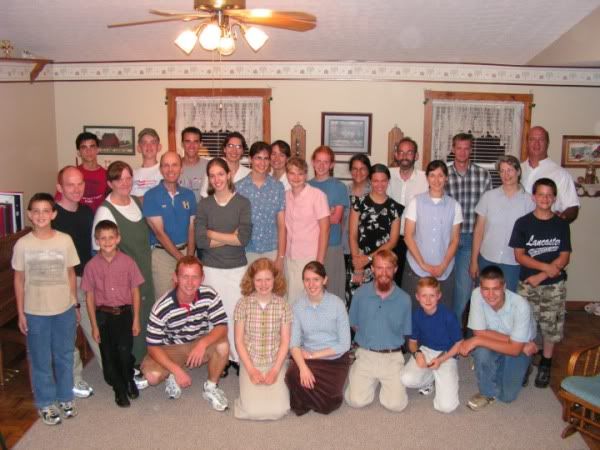 And there's the big group after our concert at night at the Myers.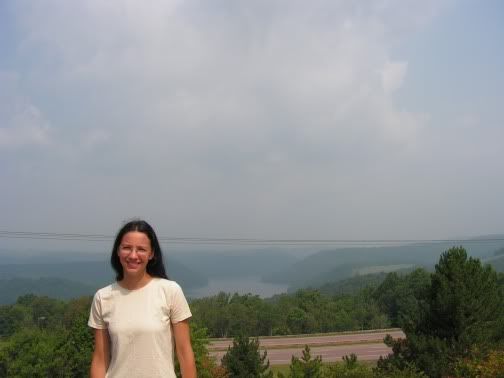 The views in WV and VA were so pretty :) WV has some real hills.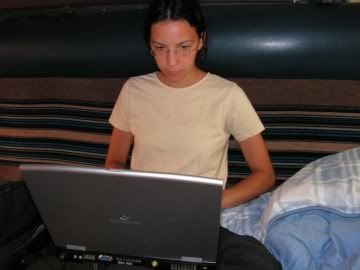 Carol will announce her news at her blog before long, I'd guess ;) (It does kind of have to do with this picture)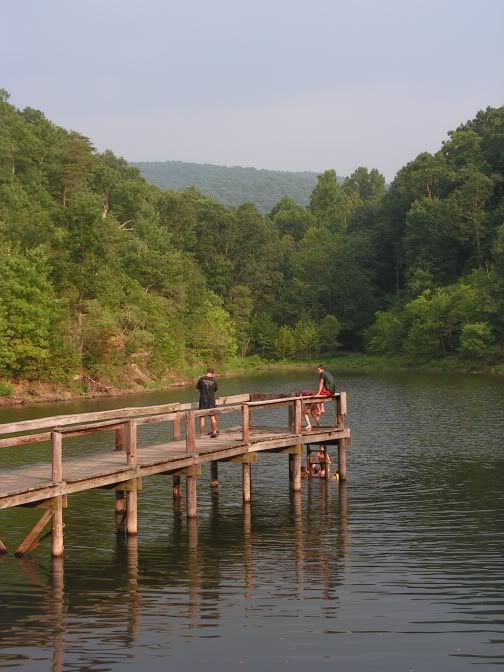 The lake we jumped in in VA was pretty too. It was sooo nice after a 4 mile run.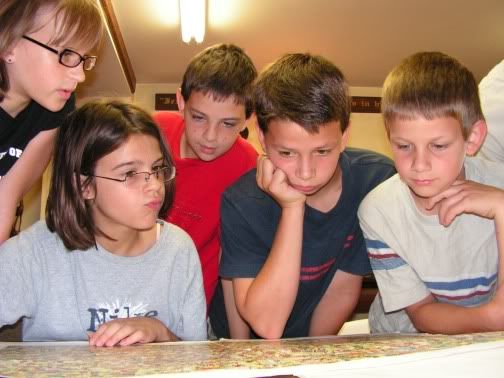 The great Where's Waldo search.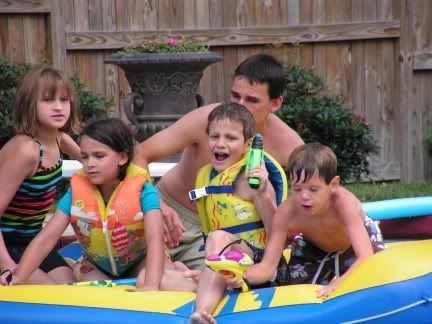 At our cousin's house near VA beach. We had a family reunion there at the end of the trip and it was so fun. It gets better every year :) It's so cool not to have to remind someone that your last name is spelled "AC".





My cousin gave me a Chinese backrub. Very cool. Thanks Bri ;) And thanks Bec too, dot dot, dash dash, x marks the spot.... :D
Ok, out of my cousin memory things, just in case they stop by :D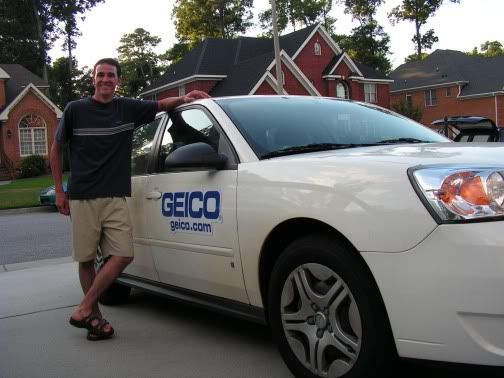 Our second cousin works for...GEICO! (but that's Vincent, right there by his car.) How cool is that? "You can do it! Yeah baby!" (Geico commercial quotings).





The last stage we played on, at Keswick.