Tuesday, August 22, 2006
Wheee..Bonnie has been too long not blogging.
We started work on the bus engine today. It's coming out and a used one is going in!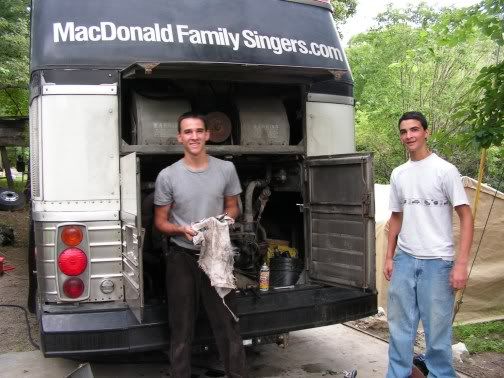 ETA more bus pictures.
I didn't realize the bumper was so big! It looks MUCH larger off the bus.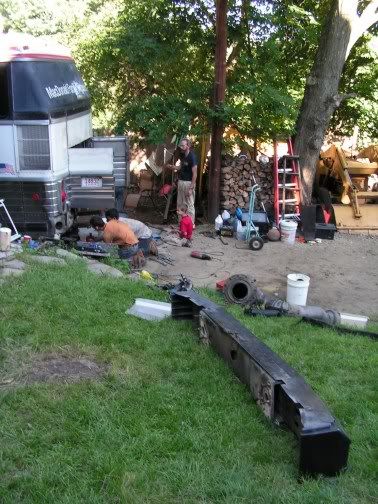 Peter working with the jack: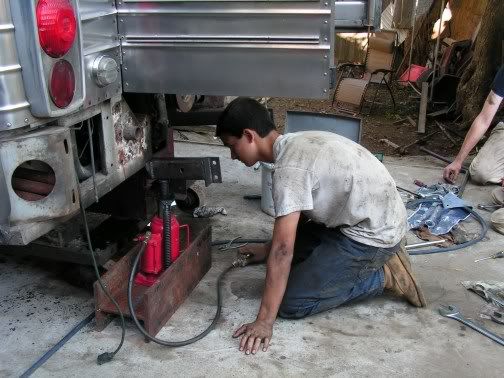 And what Carol, Mom, and Bonnie, Nathan, Matthew, and Daniel worked on this afternoon.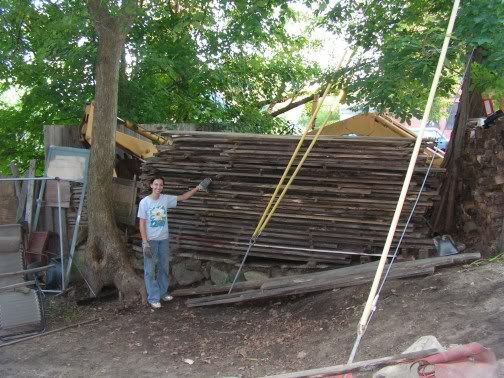 I finished a 6 mile barefoot run yesterday, it was the best feeling 6 miler I have done, and the best time for me (55:07). That is slooow, but the first time (months ago) it was 1:03, second time 56:57 (also months ago, I haven't run 6 miles in a while), and now 55:07 running fairly relaxed the first 4 miles and upping it the last two miles just because I wanted to see if I could break my old time. Well after I had passed the 1 1/2 mile mark I glanced down at my watch and I had only been out for 17 minutes, which meant I was improving from the 10 minute mile thing and it made me just feel better about the whole run :D
A woman stopped and asked me why I run barefoot. I told her it was better for my feet and she told me it was bad for my feet and that she was a doctor and knew better. She was very nice about it, and it seemed the only reason she stopped was to warn me. However, after I explained the mechanics of proper barefoot running, she paused and said that I was making perfect sense and she was glad I had looked into what I was doing and wasn't just some kid out there running barefoot. She also said long term running isn't for everyone - which I disagree with. After all, most people who burn out wear shoes :p I want to find a race!
And if you're interested in barefooting,
here's an article on it
.