Wednesday, December 20, 2006
Tony Rice Came Broken, Homemade Crackers, and My Garlic "Stuff"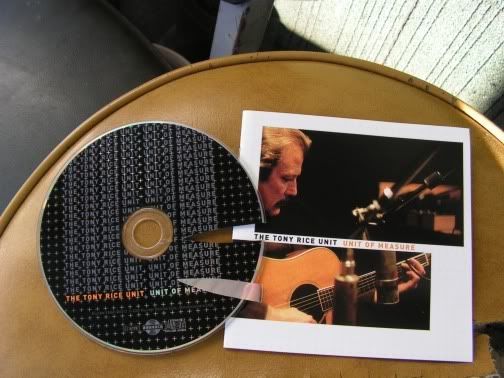 Shortly after I joined
Paperbackswap.com
I joined
Swapacd.com
. You have to have a credit plus pay the company 49 cents to get a CD. Since I posted 10 CDs, I got one credit without having to send out any CDs. I requested
Tony Rice's Unit of Measure
. It came yesterday. I opened up the package, very much looking forward to listening and handed the CD to my brother while I looked at the front insert. Then he pointed out to me it was broken. It's a perfect CD, other than the huge piece broken out of it :( I contacted the company and they refunded my 49 cents and credit in about 30 seconds. So I guess it's alright it came broken, but I'm still disappointed.
_________________________________
Yesterday while I was at work I munched on crackers for a snack. People have been giving us leftover crackers from the churches we sing at. While munching on the last cracker, I wondered to myself,
What's going to happen when the season is over and no one gives us crackers anymore?
Well of course, we could BUY crackers, but then I thought of all the unhealthy stuff in crackers. While these thoughts were bouncing back in fourth, I thought to myself that the crackers taste kind of like the crumbs of our homemade biscuits. Suddenly it struck me. Why not make crackers? There have got to be ordinary ingredients in them, maybe flour, salt, fat, and a little leavening. When I got home I asked my mom, and she said sure you could make your own crackers and I ought to look it up online. So I looked and found
this page on crackers
. I tried the recipe called Multiseeded Crackers, except I used only sesame seeds on top. Surprisingly enough, they turned out very decent. I asked Vincent my brother to eat one, and later he came back for another one. That alone was very encouraging. They were all gone by the time supper was over, so I couldn't take a picture. Cracker problem solved!
___________________________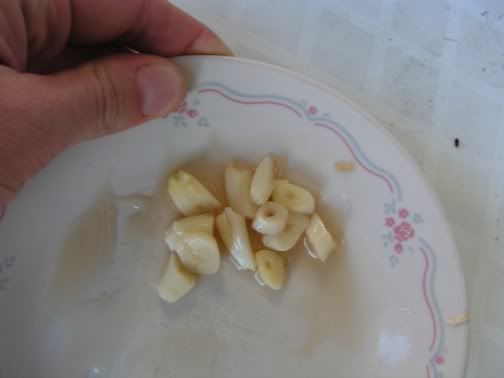 (I chop it up smaller to eat it)
A lot of people seem to be sick around here and throughout other parts of the country. I've been taking cloves of garlic for a few weeks, spurred on by a book about the history of garlic and the modern uses of garlic. About a week ago I took some garlic cloves, chopped them up, and soaked them in apple cider vinegar. I've found that it's quite good. I take about a tablespoon of garlic pieces, chop them up, mix them with honey, and gulp it with water. Yeah, so I don't chew it. But when you chew it, the taste lingers a LONG time and I don't always want the taste in my mouth. In any case, eating it like that is pretty painless, even if you can't stand garlic. It tastes like lemonade a little bit.
_______________________________
And here's a bonus. On the way home from our second of three concerts on Sunday (yes, we did three!), we stopped and took a picture of a tree in a town not too far from our home. It's the biggest I've ever seen (in real life).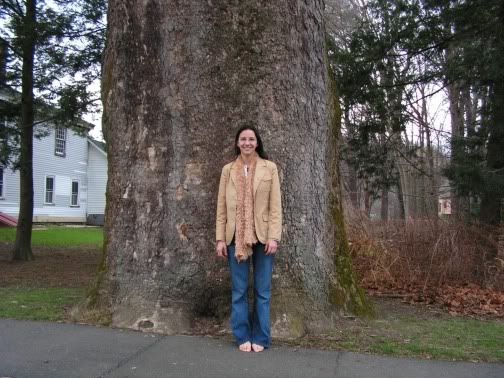 Labels: recipes