Monday, January 01, 2007
Happy 2007
The new year is here.
Last night Vincent, Peter, Nathan, Carol and I went out and handed out tracts. We had some interesting discussions. The comments I can most remember are "Thank you" and "I'm all set." One of the best approaches I've found (thanks to
Ray Comfort
) is to say "Have you gotten one of these?" A lot of people ask what it is and I say either "It's an interesting question," "It's a pamphlet with a message inside," or "It's a Gospel tract," to which people usually say "What?"
After handing someone a tract, if they look open and are standing there looking at it, there's a good opportunity to say "Do you think you're a good person?" About 50-50 last night said they were good/bad. Most of the people who said they were bad admitted to sinning and being bad, but either deny the consequences of sin or just say hell does not concern them. A lot of people who say they're good at first will admit they've broken the 10 commandments and leave the conversation saying they're a bad person. A lot of teenagers are really open and will stand to listen and answer questions. The hardest groups to talk with are those who are only present mentally in the conversation half of the time. They'll holler to their friends across the street, or yell at passing cars and talk about the guy who went by who was drunk and has been throwing up. We talked with a few Christians, some who disagreed with presenting the law and preaching condemnation of the unsaved sinner. "I don't like your approach," is what one said. I asked if he was going towards a cliff that he couldn't see, would he rather I try to convince him not to go that way on the grounds that it would be more pleasant to turn around, or would he rather I just tell him that he's headed towards a cliff?
I felt sort of apprehensive before last night. What if no one listened? What if I drew a blank and couldn't come up with an answer for a question? What if I bothered people? I prayed that God would just take care of my fears and help me to be bold. I was really encouraged in that people would listen, and unlike many people portray witnessing as, it's not usually (in this country) a cut throat experience. I've never even been yelled at.
One of the most important things I can remember while out there is that I'm not presenting me, I'm presenting the Gospel. This is God's word, not mine. I'm fallible, God is infallible. And it's so important afterwards, when someone has listened, to not think
Wow, I was smooth there. I think I made them think.
It's God's message. We're just the messengers. If we preach the word, we have just done our job.
____________________________________
We also visited the people who I work for - they had a concert last night. Probably not many of you have wondered what this place looks like, but since it's kind of an unusual house I took some pictures. This is, for those of you who may be googling this, Anderson Manor. This is where I polish wood, make beds, etc. And no, I don't wear those black and white maid suits :D
Front of the house: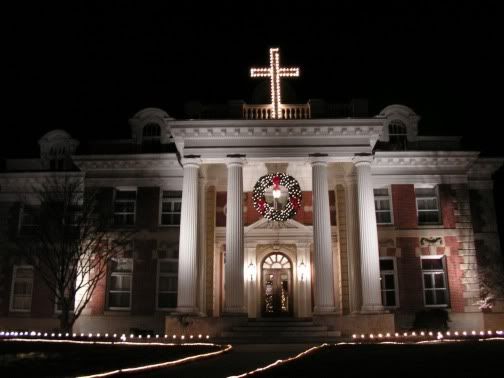 Inside the front doors: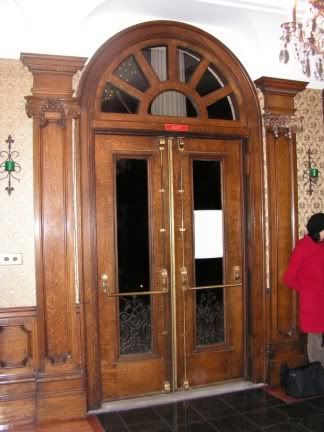 Front parlor: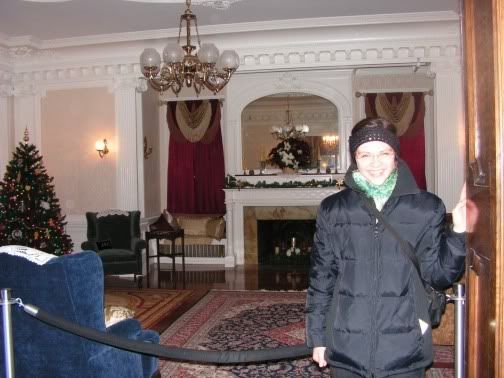 One of the many mantels:
The lady of the house with her son (and me, on the left).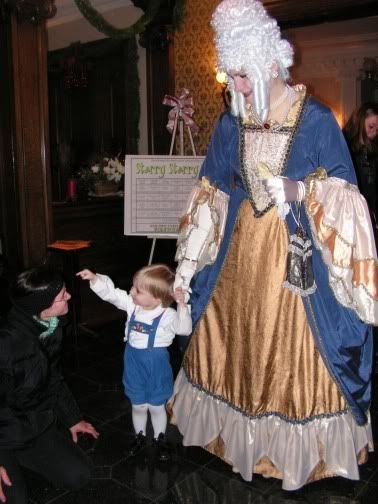 ____________________________________
And another fun hair picture.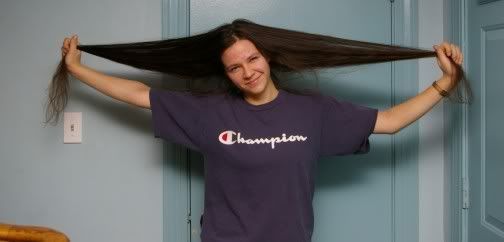 Labels: Christian walk, witnessing