Monday, April 09, 2007
Yesterday we had some company and mom made two apple pies (which were delicious, by the way. No sugar (but honey) and it did have "regular" crust and as a bonus she added crasins.) I decided to make a dessert so I looked up a recipe I had found in a newspaper in VA. I had clipped the article, but who knows where it went! The name is a memorable one -
Leigh's Man Catcher Brownies. (linked to recipe)
.
I was shocked at the proportions of sugar to flour and cocoa powder, but WOW, are they good! This is a make-on-free-day-once-every-long-while brownies. They are gooood.
I decided to take pictures while I cooked so I could post them here with
the recipe
.
Grease 14x9 pan (I used something slightly bigger, which would just result in slightly shorter cooking time). The recipe says to line it with parchment but I didn't bother. Preheat oven to 350 (I even took a picture of the oven saying 350, but it's on the other computer and I can't upload it now :P) .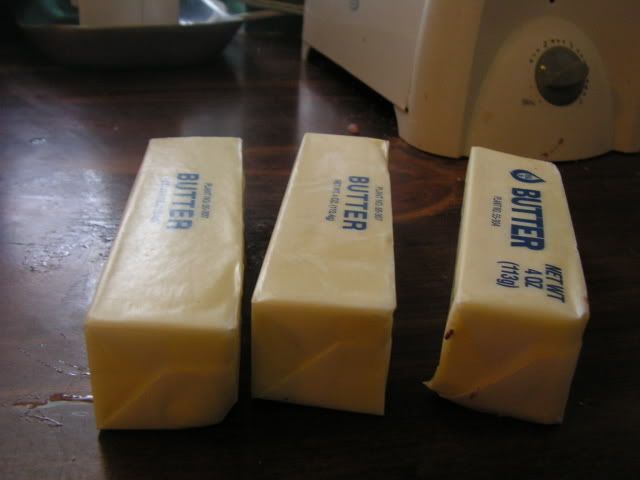 First take three sticks butter.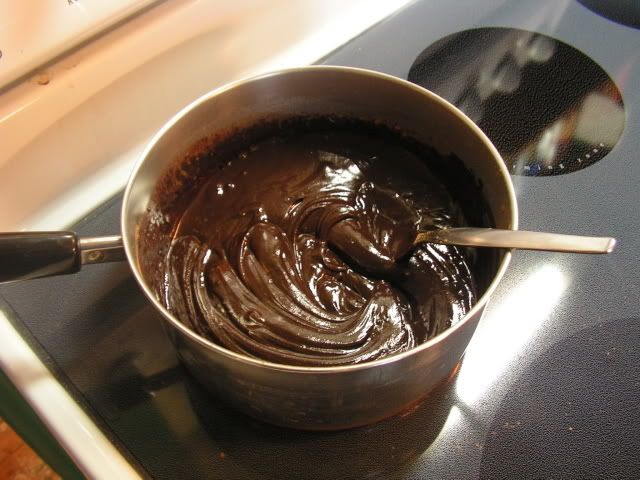 Melt in small saucepan and when melted add two cups baking cocoa. Set aside to cool slightly.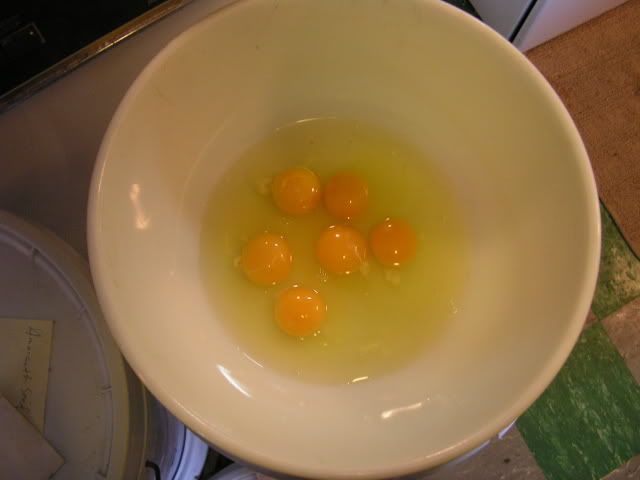 Lightly beat six eggs.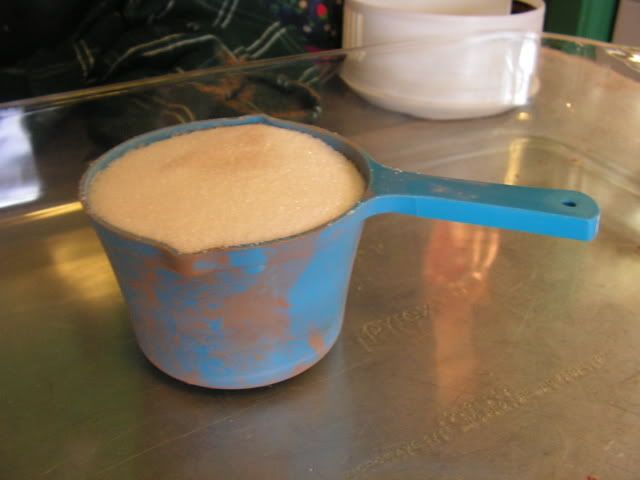 Mix in two cups white sugar...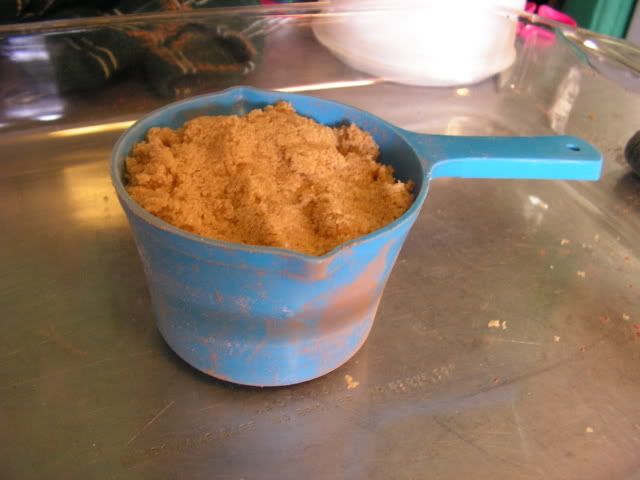 ..and two cups brown sugar!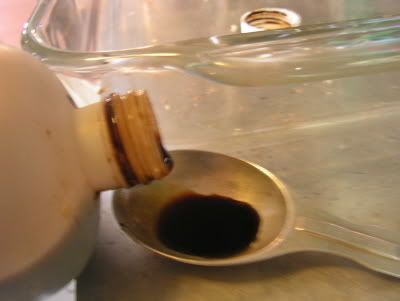 Add two tablespoons vanilla.
Mix in chocolate-butter mixture from the saucepan.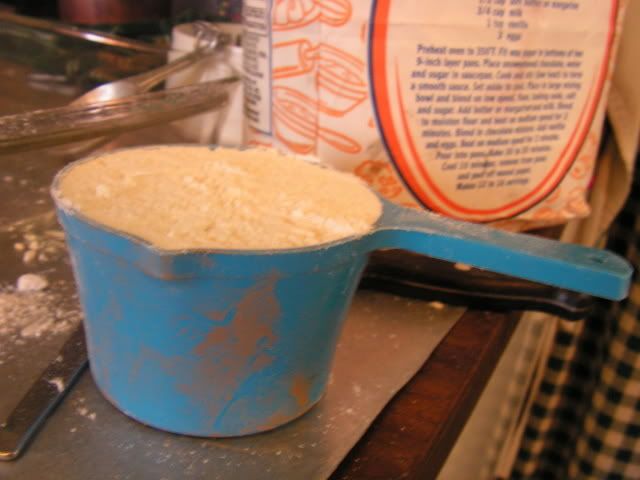 Add two cups flour and one teaspoon salt.
Mix just until blended, do not over mix. My batter turned out very very stiff. This is mom holding the bowl upside down for me :D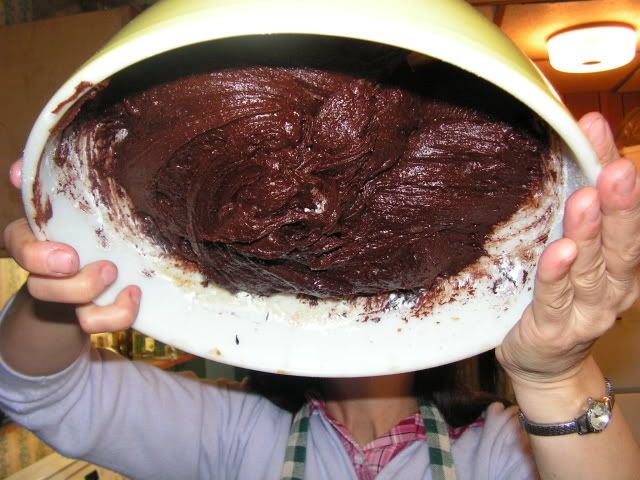 It tastes good raw too so sample it if you're not going to blame me for being poisoned by infectedd eggs :p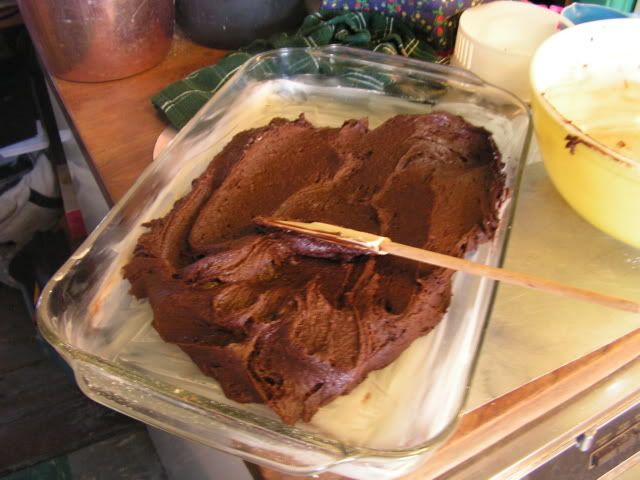 Spread it in the pan, making sure it's pushed in the corners. Bake for 35-45 minutes, or until toothpick inserted comes out clean (I used a knife) and a crust forms on the surface.
Here's the pan of brownies: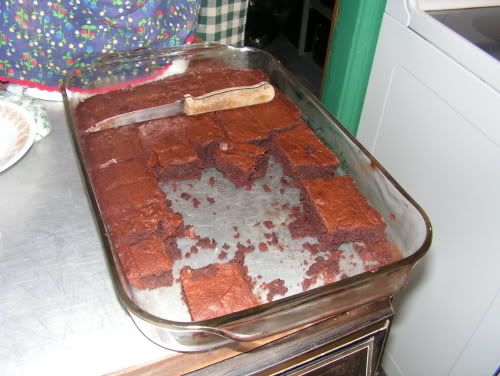 And here is a close up of the texture: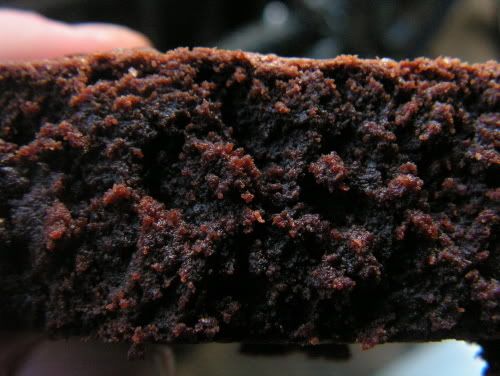 __________________________________
And btw, while these brownies may taste good, they're no good for these -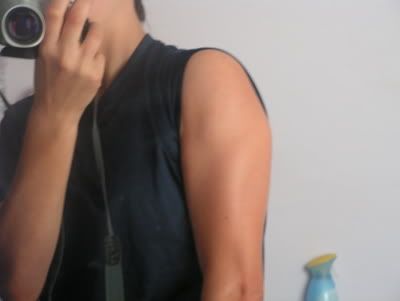 I'm telling you, this morning I flexed and my bicep is getting buried in (more) fat! I think eating sweet things and "bad" things once in a while keeps you motivated to eat better. You know you can always "cheat" once in a while and when you do cheat you feel how sick you get, lol. I'm not sure if it has anything to do with what I'm eating lately but my face has almost completely cleared up. That's good news for me because there are so many things I've tried to make my face stop breaking out and none of them has worked 100%. I'd much rather get my face cleared from the inside rather than just masking it on the outside. And forgive me those of you who don't have to deal with acne and might be feeling uncomfortable by this frank (but not graphic!) discussion of it. As others who have dealt with it know, it can be hard when you're the one who has it!
_____________________________________
So in the next post I will have (Deo Volente!) a comparison of a few drawings I did - some before doing some exercises I found in a book and some after. The after drawings aren't so great, but I was shocked at how the simple exercises in the book improved what I did do. I'll also be giving out the name of this book, so come back ;)