Wednesday, May 02, 2007
Today I went searching under my dresser for a log I saved from the woodpile. It had kind of a curvy grain to it, and I thought I might be able to make something out of it.
I made a hair fork (or prong). It turned out ok, but for some reason the way I've been putting it in my hair gives me a headache :(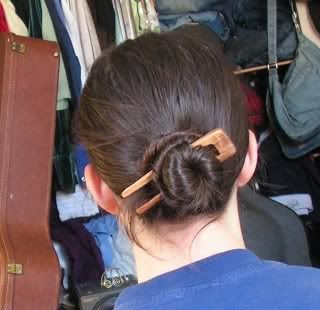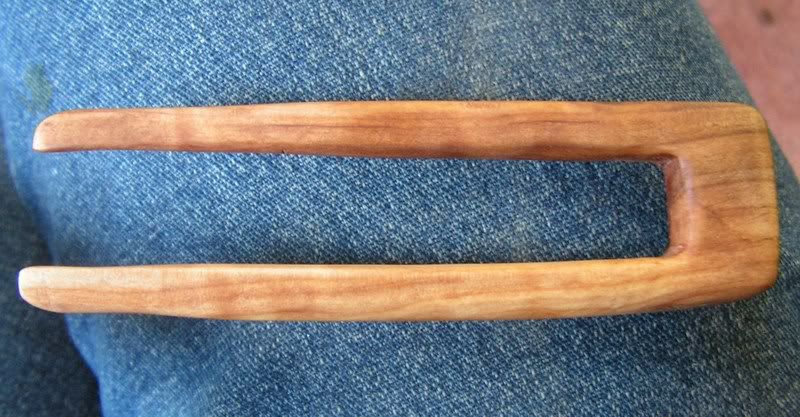 __________________________________________
For after supper I made
No Bake Chocolate Cookies
- except I put in some marshmallows with the rest of the ingredients. And I put them in a greased pan instead of making cookies out of them. It's too time consuming to make individual cookies. I've got better things to do with my time, like blog...and make pizza. Tonight I'm going to try to make a BBQ Sauce pizza, sort of like Cici's pizza does it.
__________________________________________
It's so nice outside I need to go out and do something. I feel kind of, I dunno. Pent up inside or something. I'm tired of complaining! It seems like I know what the problem is in my head, but I can't really put it into words. So because that problem, whatever it is, exists, I find a myriad of other things to complain about that I really shouldn't. My mom said I was acting "different." What does different mean? It's really bad when you're changing somehow and you're the last one to find out! I ought to go do some jumproping, I always feel giddy afterwards, lol.
Labels: recipes