Wednesday, August 22, 2007
My browser doesn't have photobucket in it's memory when I type "p" in the address bar.
Who knows how long it's been since I've uploaded pictures :(
_______________________
This morning I got up early and made eggs benedict for breakfast. Layers go as follows: toasted buttered english muffin half, hollandaise sauce, two strips bacon, poached egg, hollandaise sauce. YUM! I think of hollandaise sauce as slightly diluted butter, so it's caloricious :) I don't think that's a word, but I use it anyway.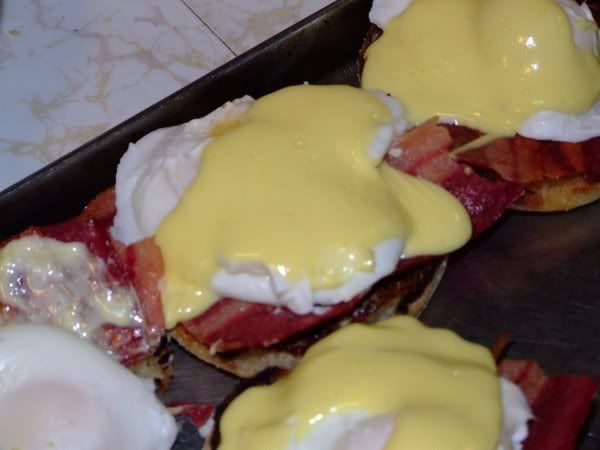 _______________________
And I'm sorry Mrs. Lyman's lettuce got et up by furry creatures. I normally don't like cabbages this much (and don't normally look like I'm in love with them). But this is a special cabbage, it's the first one I've ever picked out of the first cabbages I've ever grown. Pretty cool to grow things that look just like the kind at the store (almost). It's pretty mind boggling even for a country bumpkin like me.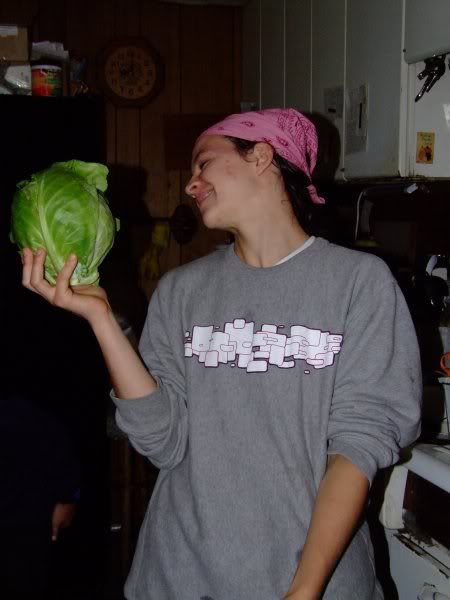 Funny as it may be, when Carol shot that picture it was in between a traditional smiling pose and she said "Oh, you're not going to like it." Who'da thunkit :) Thanks
Carol
for taking the picture.