Thursday, April 05, 2007
Finally, a picture post!
I realized that I have several projects going on that I could take pictures of to blog.
________________________
But before that, what have you found to be helpful when trying to be kinder to people? Lately I have been thinking about how often (way too often!) I reply to a reasonable question in a very unreasonable way. I know that only with God's help I can change, but often I forget and afterwards regret speaking the way I did. It's ridiculous because I would think someone else was being mean if I responded the way I do, yet I don't even think of it when doing it myself.
________________________
I have been quilting again. The bug that bit me at the Myers in Kentucky gave me a virus that will permanently be in my bloodstream. I'll have to deal with irrational urges to buy fabric and probably have to buy a lot of thread to piece things together. I like it :D
Here are the fabrics I'm working with.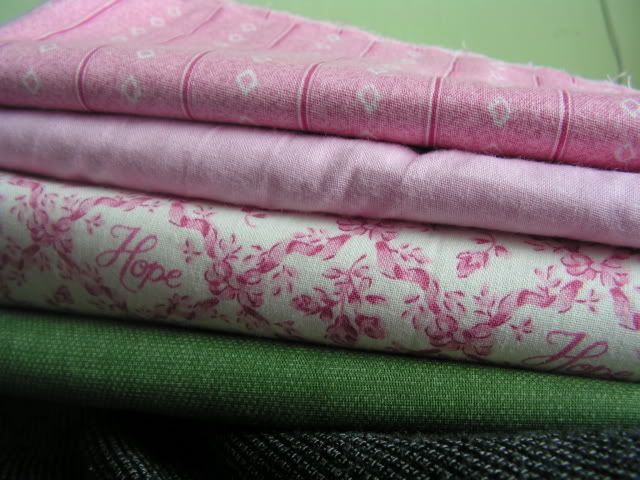 Here are the pieces cut out (the stacks at right), and two finished squares (except for ironing).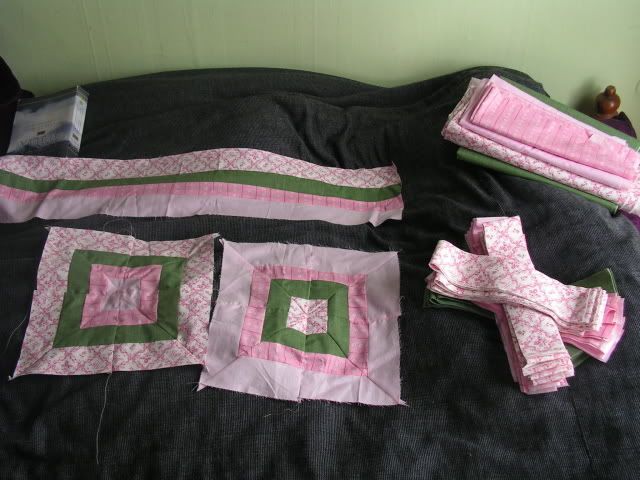 _______________________
I woke up this morning to snow. We went to the studio last night and drove 3 hours round trip through sleet, rain, and snow.
Out my window: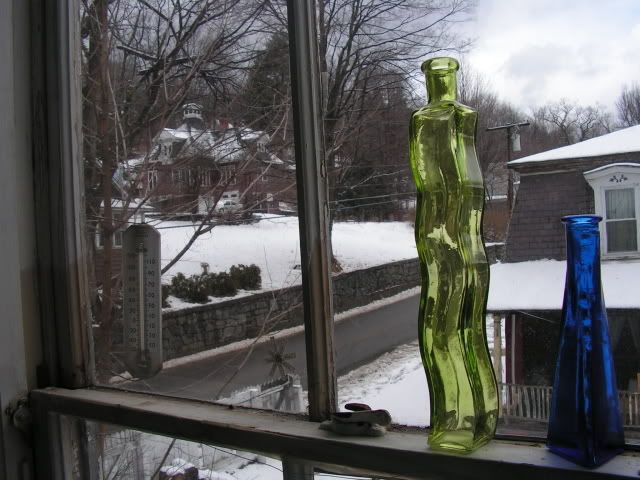 ________________________
My cabbage came up! The zinnia are also up, the basil I THNK are up and the rest remain in their egg cartons, waiting to meet the fluorescent lights above my desk.
_________________________
I heard something on the radio the other day about something that has very much to do with all of life. Pride. Is being humble just downing yourself all of the time? No way! You can say bad things about yourself all of the time but you can still be proud before God and others. If you find bad things to say about yourself, find out what's causing the problem and FIX IT! If it's something unchangeable, why draw attention to it and yourself? When we were playing volleyball in the fall in Kentucky I found that I'd always have something bad to say about my play nearly every time the ball came my way. And you know what, instead of just being humble and trying harder next time I just drew attention to myself (is that humble?) and everyone else had to listen to me rant about myself.
So anyhow, as far as the workout things go, pride can ruin anything. Pride and arrogance make whatever it is you're doing a stench to God, as far as Proverbs says. Whatever you do, do it unto the Lord. Physical training is of SOME value but godliness is good for all things.
My weights :) Actually the barbell is my brother's, he's very nicely loaning it to me. Yes, the exercise bike is rusty but it works. It almost works too well. After a few cardio sessions my left knee kind of feels funny. Speaking of pains, yesterday I wore a pair of sneakers I rarely wear and today my achilles was really bad. Yesterday I was getting shin splints while walking to work in those shoes. I think the heel on the shoes has something to do with it.